Latest models now forecasting 3 feet for parts of NY and PA
No doubt, this Winter Storm is slamming the north east. The winter storm is now showing it's true colours, which is that 12-18″ is now looking pretty unlikely for NYC, and coastal areas. Instead, 6-12″ looks a fair figure. Meanwhile, further inland, a lack of mixed precipitation (sleet, freezing rain, wet snow / rain) means that this precipitation will fall 100% as snow. Heavy snow, too. Rates of 2-4″ per hour are likely for interstate southern NY state throughout the night, as well as north eastern PA. It's here where some crazy snowfall totals are possible – 24″ and the rest.
The HRRR is suggesting totals well over 24″, infact approaching 3 feet (36″) on it's latest model run. This would grind the area to a holt, and would be the deepest single-snowstorm total this area has seen in years.
Image: HRRR snowfall accumulations for Winter Storm Gail. Source: pivotalweather.com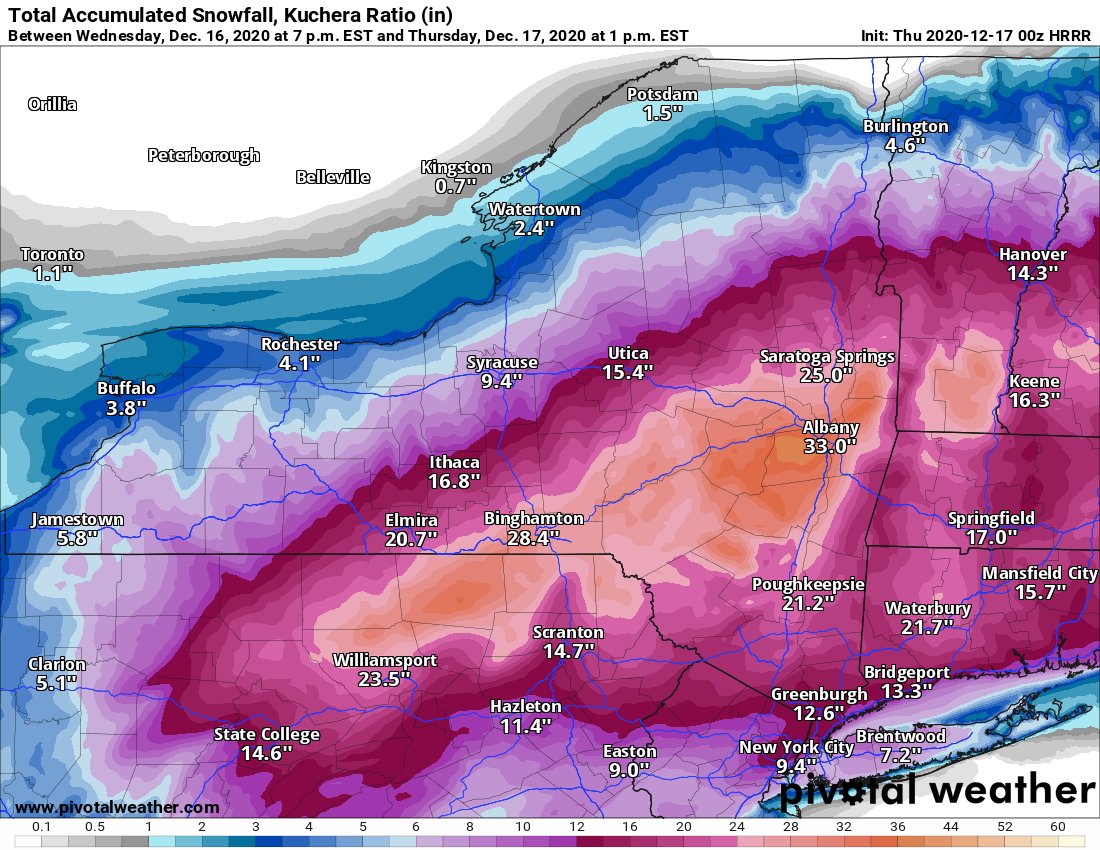 It's important to be realistic, so these projections are probably on the higher end of possible values. Still, it shows the potential associated with this winter storm. A potential which will not be realized until after the storm has finished.
The official NWS snowfall values are much more conservative, however this uses slightly outdated data from around 6 hours ago. Atmospherically things have changed since then, which means the values seen here are very likely to be over estimated for the coast and potentially significantly underestimated for inland areas, where 30″ is definitely possible.
Image: National Weather Service snowfall accumulation predictions for Winter Storm Gail.